You are here
THE EXCLUSIVE INTERVIEW with DADA`s FOUNDER - MICHAEL OHLSSON is OUT NOW!
DADA is a lovely club in Shaghai with underground dance music and so friendly atmosphere. You can dance here from Thursday till Saturday. Situated in the middle of Xingfu Lu, it offers everything you can ask for: a long bar, a small dancefloor, a lounging area furnished with red sofas and an elevated seating area at the back where you can get a little more privacy.
We had chance to talk with founder - MICHAEL OHLSSON.
DJANEMAG: Can you tell about yourself ? How did you start a work in the club? How long do you personally work there? What are your responsibilities ?
Michael Ohlsoon: Hi I'm Michael, i'm from San Francisco.  I started out as a radio DJ in California, worked at some labels, and then moved to China in 2002 and started doing events here -- bands and DJs, often on the same event together.  In 2009 we opened Dada Shanghai, and 2012 Dada Beijing.   We have DJs 4-5 nights a week at both locations, and are flying in international talents 2-3 nights a week -- I'm bad at math but that's a few hundred a year I think.   Some of them come in for a quick weekend doing the 2 cities, some are doing month-long multi-country Asia tours.  95% of the acts we book are recording artists of note, not just "DJs".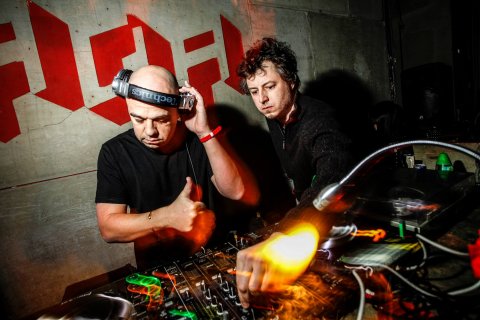 DJANEMAG:  Can you tell about club's name ?When was club opened?  What is the politic and price of club?
Michael Ohlsoon: I chose the name Dada because it was easy to text on pre-smart phones ... "2,1,2,1" ... remember?   But also we are inspired by Dada art -- in our music policy, our decor, our vibe.  We are strictly non-VIP always, no guest list, no reserved seats, no dress code.
DJANEMAG: Does your club throw theme parties? 
Michael Ohlsoon: Yes, occasionally, but our main focus is just on good quality underground music, all different styles -- disco, reggae, techno, dubstep, experimental, gqom, etc. -- but never EDM.   A lot of bars here throw "Ladies Nights" that we find tacky, so we did our own "Ladies Night" that featured an all female DJ line up, but clearly stated that the door price and drink prices were the same regardless of gender, because we believe in real equality.
DJANEMAG: Do you follow our top100djanes rating and what advices would you give us?
Michael Ohlsoon: We've booked a few DJs from your list, yes.   Personally I'm not into list ranking DJs, but I understand it helps promote the scene, especially to newbies.
DJANEMAG:  Which Djanes were played in club in 2018? On your mind,who was the best and why?
Michael Ohlsoon: I never really think about the gender of the acts I'm booking.   In fact there's been a few that I really didn't know until they arrived here!  I kind of stick to just soundcloud or bandcamp or whatever, when I'm vetting sample mixes and productions.  But since you're curious, where to begin... recently really enjoyed hosting Ikonika, Madam X, Demian Licht, Aurora Halal, Mina, Kampire, Rroxymore, Sarah Farina, Object Blue, Suzi Analog, Siesta, Shinedoe, Louisahhh, Juliana Huxtable, Nabihah Iqbal, Kyoka, QT, Jessy Lanza, Paula Temple...  i could keep going for a while here.  Look all those up if there's any you don't know.  All amazing acts!
DJANEMAG: Which DJane do you think is top in China?
Michael Ohlsoon: Oh this is so hard to say, I can't pick favorites.   The exciting thing is there's a lot of new, young female DJs and producers stepping up.  We recently had an Ableton workshop, and the turnout was 80% women, which surprised everyone, including some of the attendees.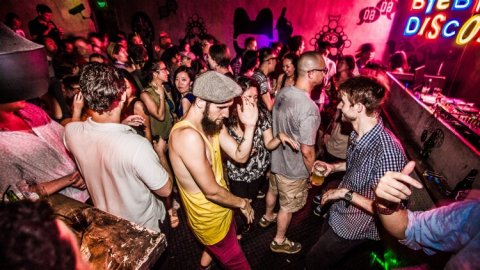 DJANEMAG:  Do you notice more guest activity at nights when DJane is announced (in comparison with male DJs shows)?
Michael Ohlsoon: No, really, we've never accounted that way... and honestly I haven't noticed any difference.  We don't give much of a focus on a talent's gender.  We do have some LGBTQ and drag nights but even then it's focused on music first.
DJANEMAG:  Can you tell us about plan for Halloween Party? Maybe you create special party?
Michael Ohlsoon: I usually play Halloween night -- I have a large collection of 80s vinyl and can go all night, some cheesy pop, some dark vibes, keep it fun and a bit silly.   Last year I was Cyndi Lauper... I'm not used to playing with a wig on and it kept getting tangled in my headphones, ouch!
DJANEMAG:  What is the secret of your club? How to be success and popularity club as you are? 
Michael Ohlsoon: We stick to our vision.   Even though it's tempting to do this or that to make a quick buck, it's better to keep it real, for long term success.  Our core audience respects that and keeps coming back.
FIRST OF ALL, DJANEMAG TEAM WANT TO THANK MICHAEL OHLSSON! DJANEMAG STRONGLY RECOMMEND TO VISIT DADA CLUB! 
DON'T FORGET TO FOLLOW IT IN  SOCIAL NETWORKS NOT TO MISS BEST PARTIES: