You are here
exclusive interview: 10 million fans of TRACY
With her tellent music literacy and cherful and generouselive performans , Tracy broke the industrys stereotype of femele djs, and ganed a large number of funs both in side  and on the internet. All though  
Tracy has 10 million fans.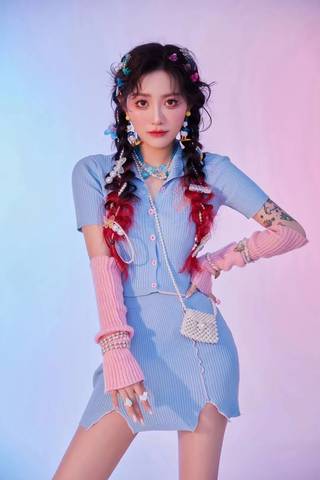 What is you favorite musician and  style of music?
Tracy : Foreign countries prefer Martin Garix and young and talented  .
Why you choose the DJ career?
Tracy :  I like it. It's going to be cool. I thought Martin Garix was so young. I think I can try it. I've been studying DJs for seven years now.
Who is the person whose career has affected you the most? Why?
Tracy :  My mom and my boss. My mother has supported me from the beginning . My boss is very kind to me. Our company's resources are also very good. So my shows are going to get more and more.
What's the most socially dead scene when you're performing at a nightclub?
Tracy :  The most embarrassing thing is that someone is on the dance floor fighting for a signed fan...
What direction do you think Chinese nightclubs will go in the future?
Tracy :  Now the outbreak is too serious, we still do a good job of protection, the outbreak has passed everyone's development will be good.
How to view the internet public opinion on female DJs unfriendly bad comments, you have seen the most hurtful comments? What do you think of bad reviews?
Tracy :  Any bad comments can't get into my ear. Do a good job of their own conscience is good To play the network is to need a strong heart .
What's the most moving thing a fan has ever said?
Tracy : What moved me most was that there were a lot of people who had been on the green train for more than a dozen hours or drove seven or eight hours to see me perform. 
How do you get so many fans?
Tracy :  Since 16 years playing other platforms, there have been 20w fans and then brought their own fans over when they played shakes So it's easier to do it. And then I watched my own popular music videos, and I did it a little bit.
Your story is really very inspiring, including DJing before helping mothers take care of the elderly, DJ school with their own money in convenience stores, the first DJ is not understood, for girls with dreams want to say?
Tracy :  It has something to do with your own education. From the heart not very accept to do x-about p this kind of behavior ... So now every dollar you make is clean. So DJs are good girls, too. And most girls. Parents are, after all, 80 after the majority concept is also that nightclubs do not have good people But as long as you clean up and refuse yellow gambling poison parents should still be more supportive.
How do you like to play at the nightclub? What would you like to drink?
Tracy :  I usually seldom go to nightclubs to bungee the most once a week, usually drinking wild gad with Red Bull But I prefer to drink a little more beer, but many stores don't sell beer.
What kind of person would you like to fall in love with ?
Tracy :  Willing to fall in love with interesting people As long as you look good, it'll be fun. It doesn't matter to me whether there is money or not.
How can  make friends with you?
Tracy : A more cheerful character can make friends with me I don't really like that kind of sliver feeling is not all the way.